The Speed You Need, From The Bank You Trust.
Get your mortgage from Salem Five ASAP!
The housing market moves quickly. Mortgage ASAP is a web and mobile app that uses the latest and greatest technology available to get your mortgage application completed as soon as possible.
Are you ready to make your move? Get Pre-Qualified today!
Not ready to apply just yet?
Click here
to request a custom rate quote.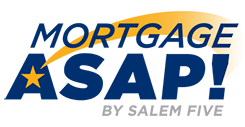 Download our mobile app from the App Store to take advantage of the best mortgage technology available.

Mortgage Calculators
Mortgage calculators to help you determine which loan product and amount is right for you.

Document Scan Tool
Use your smartphone camera to easily scan required documents and upload them securely.

Pre-Qualification Letters
Custom Pre-Qualification letters to strengthen your home purchase offer.

Notifications
Loan status and milestone notifications will help keep your loan on track to close quickly.
For over 160 years, we've helped home buyers find the right loan.
Salem Five. Make your move.